About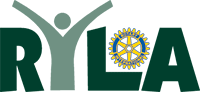 What is RYLA?
Rotary Youth Leadership Awards (RYLA) is District 7980's leadership training program for young men and women ages in grades 10, 11 and 12 (Sophomores, Juniors & Seniors). These talented youth from area high schools are selected by their local Rotary clubs to attend a weekend conference designed to increase their leadership skills and commitment to community service. RYLA is held twice a year; a spring session and a fall session. RYLA is an internationally recognized program. Each year more than 9,000 young adults are sponsored by Rotary Clubs in over 25 countries. Dedicated Rotarians and selected presenters make up the RYLA team.  Rotary Youth Leadership Awards has 25,000 students and young adults participating globally.
The Objective of RYLA
To develop personal and leadership skills with a focus placed on communication, problem-solving and management abilities. The program also introduces young people to the responsibilities of community service and global citizenship.
Rotary's motto – 'Service Above Self'
Video
Candidate Criteria
Sophomore, junior, or senior high school student who:
1. Demonstrates leadership in school or community organizations.
2. Ability to make moral decisions; knowing right from wrong.
3. Willing to be a participating member of a group.
4. Be informed about current events; local, state, national and international.
5. Willingness to express one's thoughts in front of an audience.
(FRESHMAN APPLICATIONS WILL NO LONGER BE ACCEPTED)
RYLA Dates:
FALL 2021
* Application due date:  Friday, OCTOBER 15th, 2021
* Sponsorship payment due date: FRIDAY, OCTOBER 22nd, 2021
* Conference Dates: Friday, OCTOBER 29th 9:00 AM – Sunday, October 31st 4:30 PM
Cost
The cost is $275 for the sponsor/sponsoring organization
** The conference begins on Friday morning at 9:00 AM
** The conference ends on Sunday at 4:30 PM
Late arrivals or early departures are not allowed.
Documents
Click here for the Rotary International RYLA Handbook
Click here to register for RYLA
Progression